Ladbrokes Games Review
Honest review of the Ladbrokes Games website.

68%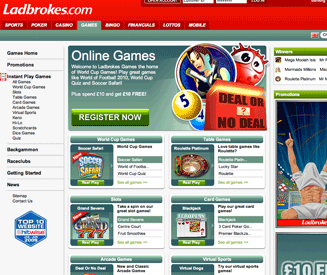 Review and rating.
Ladbrokes is a very respectable site indeed, but the Ladbrokes Games section isn't the most appetising. The games are displayed awkwardly in two long lists, which makes it difficult to pick out and find the better games on offer. There are also a lot of slots games in the mix, which simply clutter the games section.
On a positive note I can't fault the support and banking at Ladbrokes, which is only to be expected from such a solid company. An excellent feature at Ladbrokes is the ability to make instant deposit and withdrawals through local Ladbrokes shops on the high street, which is not something that you can do at many gambling games sites.
However, if my Primary school teacher were to review the overall games section at Ladbrokes I'm sure she would give it a resounding "could do better".
Play the games at Ladbrokes now
Review of the games library.
In fairness, Ladbrokes does play host to a lot of great games. The problem is that I hate the way that so many slots games have been lumped in to the games section, which effectively dilutes the quality of the "games" on offer. Therefore, "140+ games" is a bit of a skewed number for this site.
In spite of this, if you did scrape away all of the slot games from this section you would be left with some great games that can be found at many of the top online real money games sites. It's just a shame that you have to wade through the slots to get to them.
Play the games at Ladbrokes now
Ladbrokes Games website.
The Ladbrokes Games website does it's job and works well, but it's certainly not the prettiest site around. It's hard to put my finger on why the design isn't up to scratch, but I think the best word to describe it would be "dated".
The games category links in the sidebar do a good job of sorting all the games. However, this is essential as all of the Ladbrokes games are listed in a two-column table, which makes it difficult to scan and find the game you are looking for.
In spite of this, Ladbrokes is one of few games websites that actually have instructions on how to play the games. So I feel that Ladbrokes deserve some praise for putting in the effort to add information about their games rather than just listing them.
Banking.
Ladbrokes are quick and reliable when it comes to banking. One of their biggest selling points though is the ability to instantly deposit and withdraw money through Ladbrokes shops.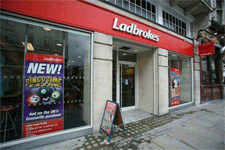 Depositing.
Ladbrokes shops.
Debit and credit card.
Cheque
Paypal
Bank transfer
Moneybookers and Neteller
All of the major deposit options are covered, with the one handy addition of being able to make a deposit from you local Ladbrokes shop. Just pop in, hand them the money and they will instantly add it to your account.
Withdrawing.
Ladbrokes shops.
Debit and credit card.
Cheque
Paypal
Bank transfer
Moneybookers and Neteller
Withdrawals options the same as deposits at Ladbrokes. It's good to see that you can also withdraw from your local Ladbrokes shop in the high street as well as deposit.
Withdrawals are instant from Ladbrokes shops, which quite frankly is awesome. This means that if it's Friday and you want to withdraw an extra Tenner for a night out you can. There will be no 3 to 5 working day waits for your money.
Support and customer service.
Great support at Ladbrokes, can't fault them at all. It's nice to deal with a respectable company like Ladbrokes as you know that they wouldn't be where they are today if they didn't excel at customer support.
You can get in touch with Ladbrokes via email or phone. Unfortunately Ladbrokes currently do not offer a live chat service, but with fast response times on the phones and via email it's not missed too much.
Free bonus - £10.
Ladbrokes offer a free £10 bonus to all new Ladbrokes Games players that submit their username and email address after creating their account and making a deposit of £10 or more.
The £10 bonus will be added to your account for you to play with within 72 hours after you have turned over £10 or more of your initial deposit.
All Ladbrokes Games
| Logo | Game | Rating | Type | Cat | Max Win | Available At | Play Now! |
| --- | --- | --- | --- | --- | --- | --- | --- |
| | Deal or No Deal | 91% | Luck | TV | £10,000 | | |
| | Bullseye | 86% | Skill | TV | £35+ | | |
| | Spin Win | 85% | Luck | Numbers | £30,000+ | | |
| | Baltimore Drop | 84% | Luck | Numbers | £2,500+ | | |
| | Pachinko | 82% | Luck | Other | £50,000+ | | |
| | Golden Sevens | 82% | Luck | HiLo | £100,000+ | | |
| | Virtual Dogs | 81% | Luck | Sports | £200,000+ | | |
| | Arcade Hi Lo | 81% | Luck | HiLo | £14,500 | | |
| | Millionaire | 79% | Skill | TV | £40+ | | |
| | Virtual Horses | 78% | Luck | Sports | £200,000+ | | |
| | Football Quiz | 76% | Skill | Quiz | £50+ | | |
| | Rubik's Riches | 74% | Luck | Other | £250,000 | | |
| | Poker Bet | 73% | Luck | Casino | £5,000+ | | |
| | Crack The Safe | 71% | Luck | HiLo | £5,000 | | |
| | Battle Cash Bonanza | 70% | Luck | Keno | £100,187 | | |
| | Pinball Deluxe | 70% | Luck | Casino | £1,000+ | | |
| | Generator | 67% | Luck | HiLo | £250,000 | | |
| | Hangman | 66% | Skill | Quiz | £10+ | | |
| | Snap Jax | 64% | Luck | Casino | £2,500,000 | | |
| | Shut The Box | 60% | Luck | Dice | £1,000 | | |
| | Pyramid | 56% | Luck | Numbers | £250,000 | | |
| | Digit | 53% | Luck | Numbers | £50,000+ | | |
| | Let It Spin | 52% | Luck | Numbers | £15,000+ | | |
| | Multiplier | 50% | Luck | Numbers | £100,000 | | |
| | Miami Dice | 45% | Luck | Dice | £100,000 | | |
| | La Boule | 43% | Luck | Casino | £1,000+ | | |
| | Poker Dice | 42% | Luck | Dice | £15,000 | | |
| | Aces High | 40% | Luck | HiLo | £50,000+ | | |
| | Aztecs 'n' Adders | 35% | Luck | Dice | £5,000+ | | |
| | Tower Power | 31% | Luck | Dice | £150,000+ | | |
| | Fruity Supernova | 30% | Luck | Other | £100,000+ | | |
| | Monopoly On A Roll | 28% | Luck | Numbers | £20,000 | | |
| | Roll 'Em | 12% | Luck | Dice | £35,000 | | |
| | Chain Reactors | 8% | Luck | Other | £1,000,000+ | | |
| | Bee Happy | 5% | Luck | Other | £100,000 | | |