Fruity Supernova
Also known as: Fruity Supernova Slot, Alien Supernova, Star Sign Supernova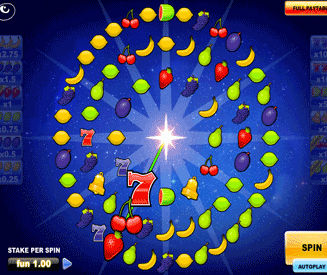 Games Similar To Fruity Supernova
| Logo | Game | Rating | Type | Cat | Max Win | Available At | Play Now! |
| --- | --- | --- | --- | --- | --- | --- | --- |
| | Cubis | 82% | Luck | Other | £1,000,000+ | | |
| | Rubik's Riches | 74% | Luck | Other | £250,000 | | |
| | Slotblox | 57% | Luck | Other | £20,000 | | |
| | Bejeweled | 46% | Luck | Other | £1,000,000+ | | |
| | Jenga | 34% | Luck | Other | £5,000+ | | |
Fruity Supernova overview.
In one word: Interesting
Fruity Supernova is a slot-style game that involves trying to get the same variety of fruit to line up across 3 different rings of fruit.
As with any self-respecting slot game, there is absolutely no skill involved in playing Fruity Supernova. You click "spin", watch the rings of fruit spin around and hope that a bunch of bananas line up.
Different types of fruit result in different payouts, and there are a few cool bonus rounds thrown in to the mix too.
However, despite offering some huge payouts, Fruity Supernova isn't the most fun slots-based game I've played. Cubis for real money and the Jenga slot are better.
Play Fruity Supernova online at Betfair now
Fruity Supernova rating - 30%.
Call me stupid/crazy/sexy, but I really like being able to see if I'm on to a winner before the game tells me that I've won something. For example, on a pub fruit machine, if I see two cherries line up then I know I'm only one cherry away from winnings some cash - and I like that.
In Fruity Supernova on the other hand, everything spins around so quickly and there are so many win lines that it's difficult to figure out whether you've won some money or just created a worthless fruit salad (not that a lemon belongs in a fruit salad, but anyway...).
On a positive note, Fruity Supernova does squeeze out some massive potential payouts, with the biggest one being 1,000x your stake. As usual though, you have to trudge through plenty of minor wins before hitting a big 'un.
Overall, Fruity Supernova looks very pretty and highly appetizing, but it's not charming enough to beat the likes of similar games like Rubik's Riches.
Other supernova variants.
One "Supernova" slot game obviously wasn't enough, so the developers cunningly switched a few of the symbols around and managed to force out two extra versions of the game.
The win lines, bonus rounds and payouts are roughly the same, so pretty much everything in this Fruity Supernova review will apply to the other versions.
Fruity Supernova is my personal favourite, as it's easier to keep track of the familiar symbols as they're whizzing around the rings. However, you might prefer the likes of either of these two Supernova alternatives:
Alien Supernova.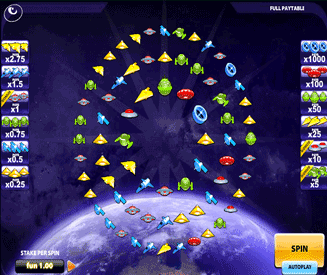 Instead of fruit, you get a random selection of some pretty feeble-looking space craft. None of them anything on the Millennium Falcon.
Star Sign Supernova.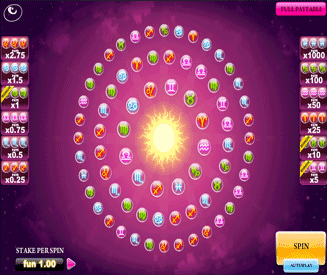 Carrying on with the galactic theme (how lazy?), the symbols in this version are made up of the various star signs that all glossy magazine-reading aunties should be familiar with.
How to play the types of games.
A quick guide.
Select your stake for one game.
Click "spin" and hope that a bunch of the same fruit line up on a win line.
Despite having a very different layout to a standard slot machine, Fruity Supernova plays just like one.
Game rules in more detail.
There are 3 rings of fruit in Fruity Supernova. An inner ring, a middle ring and an outer ring. Each of these rings contain a random assortment of fruit. After you have placed your bets, all 3 of these rings will start spinning around before finally coming to a stop.
If a winning combination of fruit appears on any of the win lines, you win money. Additionally, you will be taken to a bonus round for some certain combinations.
Different fruit combinations offer different payouts. The highest payout is 1,000x for getting three 7's in a line (obviously not actually a fruit), and the lowest payout is 0.1x for getting two fruits/symbols of the same colour on a line.
The win lines.
The win lines in Fruity Supernova run through the focus of the circle. It's a lot like having the win lines as the hour angles on a clock face.
That's probably a terrible way to describe it, so here's a diagram with a few of the win lines highlighted instead: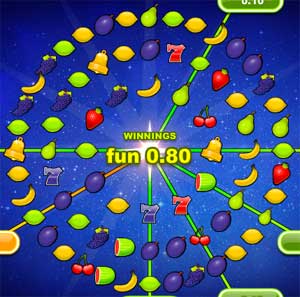 Fact: There are 12 win lines in total in Fruity Supernova.
Fruity Supernova payouts.
Note: The payouts can vary depending on which Supernova game you are playing and which games site you are playing it at. The payouts listed here are for the Fruity Supernova game available at Paddy Power Games.
There are lots of different winning combinations of fruit in Fruity Supernova (hence why it's so difficult to quickly figure out if you've won or not). So instead of listing them all here, I'll just dish out a screenshot of the full paytable for you.

In general, the fruit/symbols in order from least to most valuable is as follows:
Lemons
Blueberries
Limes
Strawberries
Grapes
Bananas
Pears
Cherries
Bells
Melons (ha ha)
Red Sevens
Blue Sevens
The bonus games.
There are 3 bonus games in Fruity Supernova:
Strawberry Split
Pick a Pear
Shoot the Cherries
1) Strawberry split.

"Strawberry Split" is activated by getting three strawberries on a win line. It's the least favourable bonus round out of the 3.
In this game, you simply choose from 1 of 3 strawberries in front of you. The strawberries contain one of the following 3 outcomes:
Lose Win
Keep Win
Double Win
These obviously need no explaining, aside from that these potential results only affect your winnings from the current spin.
2) Pick a pear.
To activate "Pick a Pear", get three pears on a win line.
In "Pick a Pear" you are presented with a bunch of pears rotating around the screen. Behind each pear is a cash prize, and you are only allowed to choose one of the pears.
This round is much better than strawberry split, but it's essentially a tame version of shoot the cherries…
3) Shoot the cherries.
Surprise, surprise… you need to line up three cherries to activate the "Shoot the Cherries" round. This is also by far the best bonus game in Fruity Supernova.
In this game you have the opportunity to shoot up to 7 different cherries. Behind each cherry is an amount of money that will be added to your tally for the bonus round. At the end of the round, the total is added to your winnings for that particular game.