Rubik's Riches
Also known as: Rubik's Slot, Rubik's Cube Game, Rubik's Riches Slot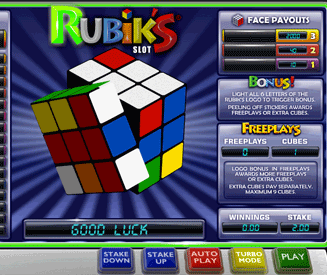 Games Similar To Rubik's Riches
| Logo | Game | Rating | Type | Cat | Max Win | Available At | Play Now! |
| --- | --- | --- | --- | --- | --- | --- | --- |
| | Cubis | 82% | Luck | Other | £1,000,000+ | | |
| | Slotblox | 57% | Luck | Other | £20,000 | | |
| | Bejeweled | 46% | Luck | Other | £1,000,000+ | | |
| | Jenga | 34% | Luck | Other | £5,000+ | | |
| | Fruity Supernova | 30% | Luck | Other | £100,000+ | | |
Rubik's Riches review.
In one word: Addictive
Rubik's Riches is an incredibly addictive slot-based game that has been smashed in to the form of a Rubik's cube.

Normally, I dislike slot-based games where you simply click a button and hope for the best, but Rubik's Riches has some awesome payouts and an amazing bonus round.
It is disappointing that you can't twist the Rubik's cube for yourself or that there isn't more interaction with the game. However, maybe that's a good thing if you think about the number of times you fantasized more about throwing the cube than solving it.
Rubik's Riches gets one of the highest fun ratings that I'm ever going to give for a game like this.
Play Rubik's Riches online at Betfair now
Fun rating - 74%.
I wanted to give Rubik's riches a low score like I did with similar slot-based games like Slotblox and Jenga, but that was before I decided to keep on playing rather than writing this very review. It's very addictive. In fact, I'm going to go for a few games after I've finished.
If you take Rubik's Riches for what it is (a funky slot game), I know that you'll love to play it. Sure, the interactivity isn't there in any way, but Rubik's Riches makes up for that with a genuinely great fun bonus round and sickly sweet graphics.
Rubik's Riches has taken the Rubik's cube to a better place. It's half the stress and double the fun.
How to play.
The basics of this Rubik's cube online game.
Select your stake.
Set the Rubik's cube in motion.
As I said, it's just like a slot machine, so you can leave your brain at the door on this one and just enjoy the pretty colours.
In more detail.
You can see three faces of a Rubik's cube in front of you.
After each spin, you want to

make as many lines of the same colour as possible

.
Lines can be made horizontally or vertically, which means that up to

18 lines

can be made in total in one spin.
The more lines you make, the more you will win.
If an entire face is the same colour, you win load o' money again. The more faces the same colour the better.
Making lines.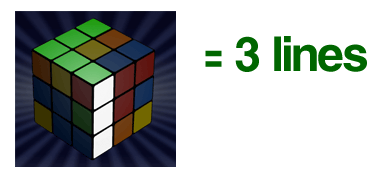 No one colour in Rubik's Riches is more valuable than another, which makes it easier to follow the game. All you have to worry about is making a line of any colour.
Lines consist of 3 blocks and must be made on one face. Lines cannot cross from one face of the Rubik's cube to another. Lines must be vertical or horizontal (relative to the cube) to qualify. Diagonal lines do not count. The payouts for lines are as follows:
1 line = 0.2x
2 lines = 0.5x
3 lines = 1x
4 lines = 1.2x
5 lines = 1.5x
6 lines = 2x
7 lines = 3x
8 lines = 4x
9 lines = 5x
10 lines = 7x
11 lines = 10x
12 lines = 20x
13 lines = 50x
14 lines = 100x
15 lines = 200x
16 lines = 1,000x
18 lines = 4,000x
Making faces (the profitable kind).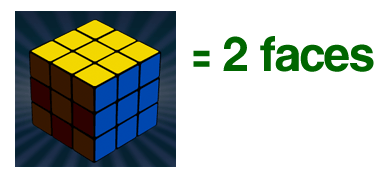 In addition to lines, you can also win money through complete faces on the Rubik's cube. As you can guess, you can only make a maximum of 3 faces in one game.
Complete faces are far more valuable than lines, so there's a good reason to be excited when you see one. The payouts for faces are as follows:
1 face = 5x
2 faces = 20x
3 faces = 1,000x
Bonus round.
The bonus round is best part of Rubik's Riches. It's fun, exciting and everything in between (whatever that may be). Getting on to the Rubik's Riches bonus round is pure luck, and as far as I'm aware there is no rhyme or reason as to when or why you make it to the bonus round.
All that you have to know is that when all of the letters of the word "Rubik's" light up at the top of the window, you've made it in to the bonus round. Now here's how it works:
Peel off squares from the Rubik's cube to reveal your rewards. These rewards will be one of two things:
Freeplays.

More free plays according to the number on the sticker.

Extra cubes.

Extra cubes according to the number on the sticker. You can have up to 9 cubes in one bonus round.
Eventually you will peel off a "Start" sticker, which will start the bonus round.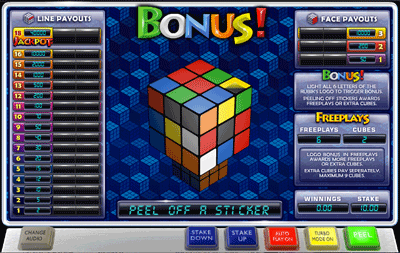 The bonus round will run through all of your free plays before it finishes. All of the cubes in the bonus round will count toward wins, which will greatly increase your chances of winning a good amount of money.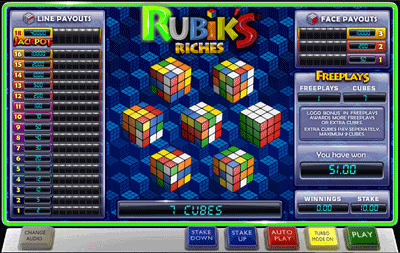 During the bonus round, the "Rubik's" bonus word can light up again, and it's far more likely to happen with all those extra cubes flying around. When this happens, you will be rewarded with more free plays or extra cubes.
As I'm sure you're starting to figure out, the bonus round in Rubik's Riches is pretty lucrative.