Cubis
Also known as: Real Money Cubis, Cubis Slot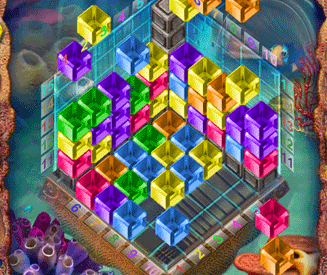 Cubis game review.
In one word: Addictive
Cubis is a slot-style game that resembles a mix of Bejewelled and Connect 4. Cubis is actually a skill-game outside of the world of real money games, but it's like a distant and far less popular cousin to Bejewelled, so don't feel bad if you've never heard of it.
The aim of Cubis for real money (despite having no control over the results) is to get four or more of the same colour cubes in a row, either horizontally or vertically across any of the three different panes that the blocks will fall in to.
If you strip away the pretty colours and sounds, Cubis isn't all that appetising. However, the game makes me smile when I play it, so as far as slot-based games go Cubis has done very well for itself.
Play Cubis online at Betfair now
The fun score - 82%.
Real money Cubis has sickly sweet graphics and is highly addictive. For a game that has no element of skill and plays much like a glorified slot machine, Cubis is annoyingly moreish.
The rainbow of vibrantly coloured cubes definitely tickle my aesthetic taste buds, and listening to them fall on top of one another is strangely satisfying. So despite Cubis not really doing all that much for entertaining the logic side of my brain, it certainly gives my eyes and ears a damn good show to compensate.
Now, if you throw a massive potential payout in to the mix (24,000x your stake), you can start to see where this weird attraction comes from. It's just like when you fancy that one person in work or in class that you really shouldn't, but there's something about them that intrigues you.
Fact: Cubis is addictive for the same reasons why similar games like Slotblox, Rubik's Riches and Jenga are addictive. I must love bright colours far too much.
Cubis is a game that you tell yourself you shouldn't enjoy playing, but you know you're going to want to have a cheeky few plays on the side every now and then.
How to play this version of Cubis.
The basic jist of it.
Select the number of lines (it's a slot remember) and the amount you want to stake on each line.
Click "Bet" and watch all the pretty cubes fall in to place.
As with all good slot machine-based games, the rarer the cubes/symbols on a win line the bigger the payout. Also the more cubes you can get in a row the better.
A more thorough overview of the rules.
Imagine you have an upright 5x5 panel in front of you. Different coloured cubes are about to fall in this panel. So that's 25 cubes in total (congratulations if you beat me to it).
If you can get 4 or more cubes of the same colour in a line, they will explode and win you money in the process. The rarer the cubes and the more of them you can manage to get in a line the bigger the payout will be.
Fact: The minimum number of cubes of the same colour needed in a row to win money is 4. The maximum you can get in a row is 10, which rewards you with a big payout.
After all the winning cubes have exploded, they will be replaced with a fresh set of cubes to take their place. If these new cubes are able to make lines with the existing cubes in the panel, you will win more money again. This process will repeat until there there are no lines of 4 or more matching cubes.
Now, multiply this process by three and envision that you can see 3 of these panels at the back of a 3D isometric box (see below). That's real money Cubis for you.
All the coloured cubes.
There are 7 different coloured cubes in real money Cubis. Some of these are more valuable than others. The general order of the cubes starting from the most valuable is as follows:
Diamond Cube.
Green Cube.
Blue Cube.
Purple Cube.
Red Cube.
Orange Cube.
Yellow Cube.
As you can guess, the Diamond cubes are there rarest whereas the Yellow cubes are all over the place.
Fact: The biggest natural payout for a line of cubes available in Cubis is 4,000x your line stake. You can achieve this by getting a line of 10 diamond cubes.
Cubis paytable.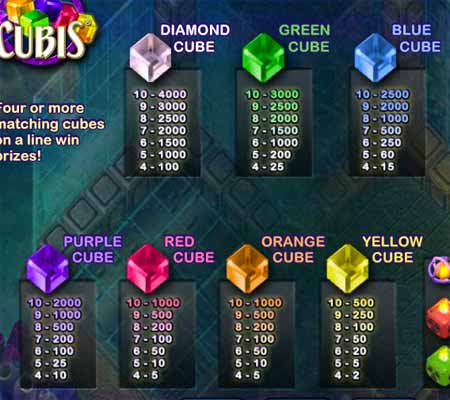 Cubis bonus cubes.
There are two types of bonus cube in Cubis.
Wild Dice.
Exploding Cubes.
Line bomb.
Square bomb.
Nuclear bomb.
1) Wild Dice.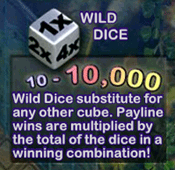 Wild Dice can be substituted for any colour cube, which makes them extremely useful.
Furthermore, Wild Dice also have a multiplier number on them that ranges from 1x to 6x.
If you make a winning line using the Wild Dice, the payout will be multiplied by the number shown on the dice.
2) Exploding Cubes.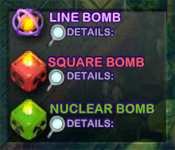 Exploding Cubes remove a set amount of cubes from the game depending on what exploding cube you get. The exploded cubes will then be replaced by fresh cubes.
Don't worry though, these exploding cubes only explode when there are no winning combinations left in the game. They won't take away your winning lines before exploding.
Line bomb.
The line bomb shoots 4 fireballs out at 90 degree angles destroying all the cubes in its path within its particular panel. This is the weakest out of the 3 exploding bonus cubes.
Square bomb.
The square bomb destroys all the cubes within its panel. Not quite a nuclear bomb, but it's better than the line bomb.
Nuclear bomb.
The nuclear bomb destroys all the cubes in the game. All of the cubes contained in each of the panels will explode and will be replaced with new cubes. It's a bit like having a free game.
Game speed option.
In the bottom left corner of the Cubis window you can control the speed of the game. This option basically speeds up or slows down the animation of the falling cubes, where the fastest setting removes the animation completely.
Honestly, unless you're in some sort of rush (then why are you playing games?) I wouldn't bother with speeding up the game. Sit back and enjoy the colours and strangely satisfying noises that the cubes make as they fall on top of each other.