Betfred Games Review
Honest review of the Betfred Games website.

72%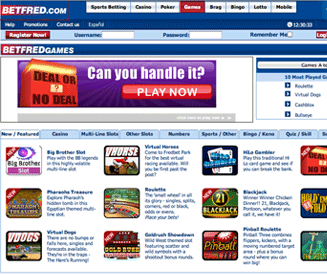 Quick review.
Despite having fewer games than most real money games sites (90+), I really enjoy playing at Betfred. In fact, the design isn't great either, but it's a warm and simple site that delivers some great games and organises them well.
Betfred doesn't excel in any one area, which is why I can't give it a better score. However, I can't be overly critical of Betfred Games because it's such a sweet little site that doesn't do anything wrong, except for being quite basic.
Betfred is like the quiet worker that does its job well, but unfortunately it's never quite going to win employee of the month.
Games selection summary.
Not a wide selection of games at Betfred, but most of the games they do have are worth playing. There are a few slots games in the mix, but not quite as many as they've forced in over at Ladbrokes so it's not all that bad.
Note: I'm not a big fan of slots in the games section. If I want to play slots I'll head over to the casino rather than the games section. I prefer to keep them separate.
There are no unique games at Betfred, so most of what you find at Betfred Games you will be able to find elsewhere. The fact that Betfred hosts fewer games than most suggests that they may be focusing on quality over quantity though, which is a nice touch if that is indeed the case.
Website design.
The design of Betfred Games suffers from the same "dated" appearance as Ladbrokes. Nonetheless, the usability is impressive and the layout comfortably ranks as one of the clearest and easiest to use out of all the games sites I've played at.
Betfred Games is a prime example of how the simple solutions can be the best. The navigation in the form of category tabs above the games is similar to that of Paddy Power's, and it works like a charm.
Overall, no prizes for design, but nice job on the simple and effective website navigation and layout.
Betfred Games banking.
Banking is good with industry standard withdrawal speeds. The Betfred Shop withdrawals are by far the best aspect of banking at Betfred though.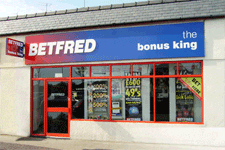 Deposit options.
Betfred shops.
Debit and credit card.
Cheque
Paypal
Bank transfer
Moneybookers and Neteller
Yes! Another games site (along with Ladbrokes Games) that allows you to make a deposit at your local betting shop. All of the other most popular deposit options are there too if you prefer to make your deposits online.
Making a withdrawal.
Betfred shops.
Debit and credit card.
Cheque
Paypal
Bank transfer
Moneybookers and Neteller
Same withdrawal options as there are deposit options really, plus the handy extra of withdrawing from Betfred shops. Excellent.
The best part about withdrawing from a local betting shop is the ability to instantly get the money in your hand. There are no 3 to 5 working day delays with Betfred shop withdrawals like there are with the cheque or credit/debit card withdrawal methods.
The only requirement is that you've made a deposit at a Betfred shop before you request your first withdrawal.
Support.
Always been happy with Betfred support. Communication has been fast and the support team seem to know what they're doing. Never had any problems with them so I can't complain.
Betfred offers phone and email support, each with different sets of contact numbers and addresses to help you sort any issues out as quickly as possible. They also offer the old-fashioned post as a method of contact for good measure.
Deposit bonus - £25.
The bonus is a free £25 to all new players signing up for Betfred Games. However, this bonus is not credited immediately after making your first deposit. To get the £25 bonus, you must first wager £500 before the bonus will be released in to your account.
If you're after a friendlier bonus, go for the one at Paddy Power Games.
All Betfred Games
| Logo | Game | Rating | Type | Cat | Max Win | Available At | Play Now! |
| --- | --- | --- | --- | --- | --- | --- | --- |
| | Hi Lo Gambler | 93% | Luck | HiLo | £55,000+ | | |
| | Deal or No Deal | 91% | Luck | TV | £10,000 | | |
| | Bullseye | 86% | Skill | TV | £35+ | | |
| | Spin Win | 85% | Luck | Numbers | £30,000+ | | |
| | Baltimore Drop | 84% | Luck | Numbers | £2,500+ | | |
| | Golden Sevens | 82% | Luck | HiLo | £100,000+ | | |
| | Virtual Dogs | 81% | Luck | Sports | £200,000+ | | |
| | Virtual Horses | 78% | Luck | Sports | £200,000+ | | |
| | Pinball Roulette | 78% | Luck | Numbers | £10,000+ | | |
| | Football Quiz | 76% | Skill | Quiz | £50+ | | |
| | Golden Balls | 76% | Luck | TV | £1,200 | | |
| | Dice Wars | 75% | Luck | Dice | £1,000+ | | |
| | Poker Bet | 73% | Luck | Casino | £5,000+ | | |
| | Battle Cash Bonanza | 70% | Luck | Keno | £100,187 | | |
| | 3 Card Brag | 68% | Luck | Casino | £20,000+ | | |
| | Hangman | 66% | Skill | Quiz | £10+ | | |
| | Shut The Box | 60% | Luck | Dice | £1,000 | | |
| | Slotblox | 57% | Luck | Other | £20,000 | | |
| | La Boule | 43% | Luck | Casino | £1,000+ | | |
| | Tower Power | 31% | Luck | Dice | £150,000+ | | |
| | Monopoly On A Roll | 28% | Luck | Numbers | £20,000 | | |
| | Catchphrase | 27% | Skill | TV | £40+ | | |
| | Aladdin's Treasure | 26% | Luck | HiLo | £10,000 | | |
| | Trail Blazer | 24% | Luck | HiLo | £10,000+ | | |
| | Bee Happy | 5% | Luck | Other | £100,000 | | |
| | Football: In Between | 4% | Luck | Sports | £710 | | |