Football: In Between
Also known as: Football In Between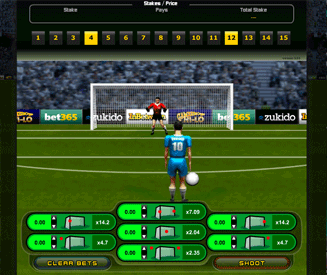 Games Similar To Football: In Between
| Logo | Game | Rating | Type | Cat | Max Win | Available At | Play Now! |
| --- | --- | --- | --- | --- | --- | --- | --- |
| | Virtual Dogs | 81% | Luck | Sports | £200,000+ | | |
| | Virtual Horses | 78% | Luck | Sports | £200,000+ | | |
| | Darts | 10% | Luck | Sports | £5,000+ | | |
Football: In Between game summary.
In one word: Boring
Football: In Between is a terrible fixed-odds sports game. You bet on the outcome of where a player will shoot the ball from a random part of the pitch. You can wager on whether the player will score, hit the post or miss.
The very idea is bad enough, but the game is even worse than you might imagine.
It's apparent that Football: In Between is a game that is there simply to help fill out the "Sports" sections of online real money games sites. The only reason you'd want to play it is to see first-hand just how bad it is.
Play Football: In Between online at Betfred now
The laughable final score - 4%.
It really is difficult to find anything enjoyable about Football In Between. In fact, I think I'll go ahead and say that I find nothing enjoyable about it. It's such a simple and un-ambitious game that since it's inception it was destined to receive a low rating.
The only thing worse than the gameplay in "Football: In Between" is the graphics. Honestly, I've seen better graphics on a digital watch. In addition to this, the player movements are so bad that they're verging on the comical, and that's about as good a compliment this game is going to get.
If you can derive any fun from this game I would be amazed. Football: In Between provides an emphatic reason as to why you should stick to betting on sports online (the real ones) instead.
How to play Football: In Between.
The basics.
Bet on where you think the ball will end up.
Click "Shoot" and hope you're right.
A detailed guide to the rules.
There are 7 different outcomes that you can wager on in Football: In Between. Some are less likely than others, which result in bigger payouts if you guess correctly.
A goal. Anywhere in the net.
Outside of the goal. A miss to either left or right of the goalposts.
A miss to the left of the goal.
A miss to the right of the goal.
Hitting either goalpost.
Hitting the left goalpost.
Hitting the right goalpost.

In general, the most to least likely outcomes are roughly as follows:
A goal.
A miss.
Hitting the goalpost.
Before each round, the ball is randomly placed in one of 15 different starting positions on the pitch facing the goal. The position of the ball has an influence on the payouts of each outcome, as the outcome's likelihood will change depending on the ball's placement.
This is obviously an attempt to add some variation to the game, but it does very little in making it more interesting.
Note: Winning bets can not be rolled over or accumulated.