Darts
Also known as: That Terrible Darts Game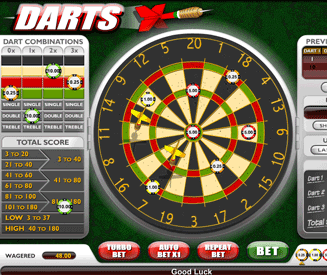 Darts game overview.
In one word: Dull
"Darts" is not the game I expected it to be. In fact, it's not even close. The game is basically a cheap version of roulette with a dodgy dartboard smudged over the top. If you are looking to play Darts online, this isn't the answer.
I would have loved to have been there in the office to hear the roars of laughter when one of the developers said: "I know, let's call it Darts.". The game is so far away from a proper game of darts that it's actually quite comical.
If you want to play roulette, play roulette. If you want to play a decent darts-related game, play Bullseye. But please for the love of God, do not play the game "Darts".
Score - 10%.
With a bold and imaginative name like "Darts" you would be forgiven for thinking that this game actually contained some sort of mildly interactive dart-throwing gameplay or something like that. But no… just no.
Seeing as this game is an (horrific) adaptation of roulette, the excitement and entertainment rests on the anticipation of drawing the winnings numbers (or whatever it is you've bet on). However, this one and only element of fun has been ripped out of the game, leaving behind a gaping hole of disappointment and comically bad gameplay.
Instead of the bobbling ball knocking and jumping around a crisp roulette wheel, you have a pasty hand awkwardly throwing darts at a sketchy dartboard. There is no suspense whatsoever. The dart could be thrown anywhere and the result is displayed in an instant.
Darts is so bad it makes it on to an exclusive list of games that I'd recommend you play once just to experience how shoddy they really are.
Guide to playing this game.
The basics of Darts.
Bet on areas of the board or other dartboard related stuff.
Decide whether to collect of gamble any winnings on the bonus round.
Don't get too excited about the bonus round, it's just as bad (if not worse) than the main game and usually ends up losing you more money.
Darts in more detail.
Darts is split up in to two rounds.
The main dartboard round.

This is like roulette on top of a dartboard.

The bonus round.

This is where you get to gamble your money for bigger wins.
1. The main dartboard round.
This is the main focus of the game. In this round there are a bunch of different outcomes that you can wager on, each with varying payouts. You can bet on:
The total score after 3 darts.
The number of darts in a certain bed colour.
The number of singles, doubles and trebles.
Any individual score on the board (e.g. double 18, single 7, treble 12, bullseye etc.).
After you've finished placing your bets, 3 darts are thrown randomly at the board. As far as I'm aware every dart will score (i.e. none will bounce out or hit outside of the board).
Winning bets will then be paid, which can be collected or taken through to the bonus round if you wish.
2. The bonus round.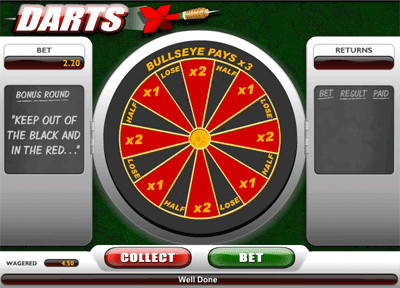 The bonus round uses a totally different board to the main dartboard round. There are four different beds in total, with the winning beds being red and the losing beds being black. The four types of beds are as follows.
Black beds.

Half.

Your winnings are halved.

Lose.

You instantly lose all your winnings in the game.

Red beds.

2x.

Multiplies your winnings by two.

1x.

Your winnings remain the same.
If you haven't already noticed, out of the 4 possible beds a dart can land in, there are effectively; two bad beds, one neutral bed and just one good bed. That's doesn't make for much of a good bonus round in all fairness.
You can play the bonus round for as long as you like, there are no restrictions on the number of darts you can throw in an attempt to increase your winnings. However, if you lose all of your money the bonus round is over.