Killer Ace
Also known as: Killer Ace Roulette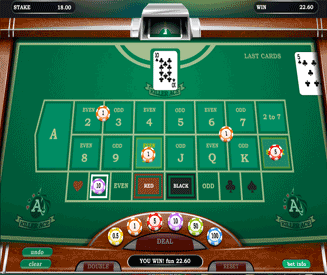 Games Similar To Killer Ace
Killer Ace review.
In a word: Boring
Killer Ace is a simplified version of roulette that uses a deck of cards instead of a roulette wheel. A random playing card is drawn from a standard deck and you place bets on the table just like you would when playing roulette.
Due to the fact that a deck of cards has only 14 values/numbers compared to the 36 numbers on a roulette wheel, there are obviously less betting options and slightly lower payouts than your standard game of roulette.
"Killer Ace" is a nice idea for a variant of roulette, but I doubt you're ever going to see it down your local casino any time soon.
Note: A really clever (and way more fun) variant of roulette is Pinball Roulette.
My fun rating - 32%.
What's the most tense and exciting part of roulette? It's when the ball is bobbling around the roulette wheel right? In Killer Ace, this feature has been ripped, kicking and screaming I'm sure, from the game.
Instead of the exhilarating build up to the result, Killer Ace just deals out a card from the deck after a short delay. Sure, there's a smidgen of tension as there always is in roulette-based games, but it's disappointing not being to be able to watch the randomness of the result as it is drawn like you can with a good old roulette wheel.
If you're a big roulette fan and you fancy a change of pace, Killer Ace is a cleverly designed alternative. However, at the end of the day, Killer Ace isn't a fun enough game to keep you interested for long. I can guarantee you will return to the trust roulette wheel after a few plays of Killer Ace.
Note: If you're looking for a simple version of roulette that's more exciting than Killer Ace, try La Boule instead.
How to play Killer Ace.
The basic jist of it.
Bet on a bunch of stuff like you would in normal roulette.
Click "bet" and wait for a random card to be drawn from the deck.
Killer Ace really is just a basic (and slightly less exciting) version of roulette. If you've ever even looked at a roulette table before, you'll quickly figure out how to play Killer Ace online.
In more detail.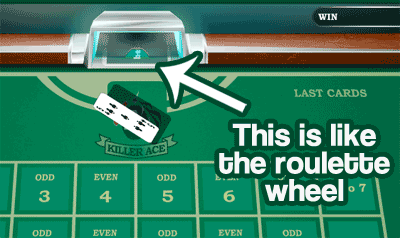 The betting options in Killer Ace are incredibly similar to the ones found in your standard game of roulette. The biggest difference is that there are fewer numbers in the centre of the board, which means that there are generally less betting options on offer (like rows and columns etc.).
Similarities and differences between roulette and Killer Ace.
Instead of numbers ranging from 1 to 36, they range from Ace to King.
Red and black bets are the same.
Even and odd bets are the same.
There are fewer column/row bets in Killer Ace.
The added option of

betting on a specific suit (e.g. a diamond)

is unique to Killer Ace.
That's about it really.
The Ace is also just like the "0" in European roulette. If an Ace is drawn, you do not get paid for any; red, black, odd, even, suit or row bets. I guess that's why they call the game "Killer Ace".
Betting options and payouts.

The Killer Ace betting options really do not need any explaining, but I have some spare time on my hands…
Individual cards = 12.6x.

Bet on any specific card from Ace through to King.

Red or black = 2x.

Bet on the next card being either red or black.

Even or odd = 2x.

Bet on the next card being either even or odd.

Specific suit = 4x.

Bet on the next card being a club, diamond, heart or spade.

Row bet = 2x.

Bet on the next card being between 2 & 7 or 8 & K.
As you can see, the highest payout for one bet in Killer Ace is 12.6x, which is a lot lower than the 35x maximum payout found in normal roulette.
Note: Results from previous games can be found down the right-hand side of the screen in the "Last Cards" section.