Deposit Methods For Online Games Sites.
So you've signed up for your first account, but how exactly do you go about getting money in to your account to play games and win money with? Furthermore, out of all the possible deposit options, which one is the best?
Making your first deposit is really straightforward, honestly. There will be plenty of links and information on how to do it at the games website you signed up for. Despite that, here's my advice on the best (and easiest) methods for funding your account.
I) The easiest and most popular deposit options.
1) Debit and credit cards.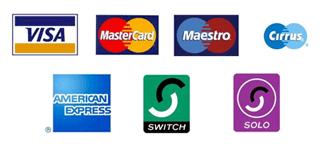 If you have a bank account, you almost certainly have a plastic card or two in your wallet or purse. From my experience, making a deposit via debit or credit card is the fastest and simplest way to put money in to your online account.
All you have to do is enter a few details from your card on to the website and you're all set to deposit as much or as little as you like. It's easy, free and instant.
And yes... it's totally safe.
II) Secondary deposit options.
1) Online wallets.
Have you heard of Paypal? Of course you have. This is what's known as an "online wallet", and it pretty much does exactly what it says on the tin.
You upload funds from your bank account (via bank transfer or debit card) to your online wallet (like Paypal) and from there you can go on to deposit to your online betting site account.
You may be thinking "well, that just adds another step in to the whole process", and you'd be right. However, some people prefer to use online wallets if they are regularly moving money around the Internet from one site to another on a regular basis. This is because the withdrawal times are usually instant (back to the online wallet).
They definitely have their uses, but they're more suited to the experienced online bettors.
Examples of popular online wallets:
Paypal - The most popular online wallet, but it's not accepted at all games websites.
Moneybookers - A very popular online wallet that is accepted at almost all games and betting websites.
Neteller - Very similar to Moneybookers, but with slightly higher fees for withdrawals.
There are many more out there, but these are by far the most popular. I've also had a lot of first-hand experience with these 3 so I can comfortably recommend them.
III) Alternative and less popular deposit options.
1) Cheques.
Dig down to the bottom of your "bits and bobs" draw and you may be able to find that old cheque book. As it turns out, you can still use this "classic" payment method in the modern age of online wagering. All of the major real money games sites will still accept cheques in the post as a deposit method.
However, you can expect to wait at least 5 days and up to 4 weeks for your payment to be processed. By that time you may have even forgotten about your payment, so I'd only go down the cheque route if you absolutely have no other option (which is highly unlikely). You have a bank account, so use your debit card instead.
2) Bank transfer.
Bank transfers involve sending money directly from your bank account to the betting website's bank account. It's trickier than depositing by card as you need to have plenty of bank details at hand, plus it will take a few days for the deposit to go through.
Bank transfers are usually best for the high-roller types that will be depositing larger sums of money, most commonly 5 figures at a time.
Although it sounds like a fairly good option, it's actually much easier to use your debit card.