Golden Balls
Also known as: Goldenballs, Golden Balls TV Game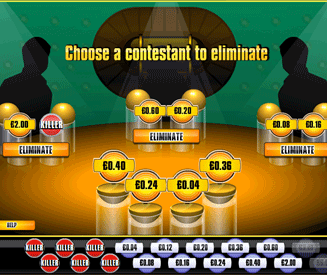 Games Similar To Golden Balls
A short overview/review.
In one word: Fun
The Golden Balls online game is an adaptation of the popular daytime TV game show of the same name (see Golden Balls on TV), hosted by the "lovable" Jasper Carrot. However, instead of having the opportunity to speak with contestants, you simply pick and choose who to eliminate depending on what balls they have on show.
Golden Balls online follows the exact same format as the TV show. It's predominantly luck-based, but you could argue that there is some skill in choosing which opponents to eliminate in the first two rounds.
Overall, the game of online Golden Balls is fun to play. The biggest downside to the game however is the frequent, frustrating low wins in the "Bin or Win" round. I'll vent my frustration in just a moment.
Play Golden Balls online at Paddy Power now
The rating - 76%.
Golden Balls is really good fun, but it is simply let down by those frustrating falls from potential big money wins in the "Bin or Win" round. Every time I select a "Killer" ball and slash my total winnings I want to force my hand in to my monitor, pick up the ball in question and personally launch it in to Jasper carrot's smug grin.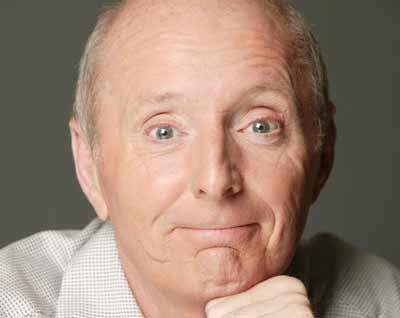 Whilst I love playing Golden Balls online I just wish it made it easier from me to win. It seems as though you get a bunch of really low wins/losses with an infrequent huge win every now and then.
When you crack open a game of Golden Balls online, be prepared to enjoy yourself whilst you play, but don't expect too much when it comes to winning money consistently.
How to play Golden Balls.
The basics of the game.
Round 1: Eliminate one of the other 3 players and their balls.
Round 2: Eliminate one of the other 2 players and their balls.
Round 3: Randomly choose which balls to win - avoid the killer balls.
Round 4: Choose to try and split or steal the winnings.
If you have not watched or played Golden Balls before then this quick overview on how to play the game isn't going to make much sense. However, I'm sure that you're finding the regular use of the word "balls" hilarious. We've all been there.
If you have watched Golden Balls before, the only game is almost exactly the same, except you don't have anyone lying to your face and you're never going to get booted out.
The game format.
Prepare yourself for many more instances of the word "balls" being thrust in to the middle of innocent sentences, making them even more hilarious than you could have ever imagined.
Round 1 - eliminate one of three other players.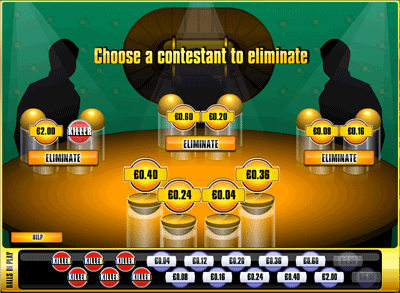 In the first round of Golden Balls online, you have to choose one of three contestants to eliminate
You can only see two of each contestant's balls (hardy har har), and you have to make your decision based on that information alone. Once you have eliminated a contestant, their balls (yep) will be removed from the game.
Ideally you want to remove as many killer balls as possible, but at the same time you want to keep the big money balls in the game. In the screenshot above, you may not want to eliminate the contestant with the killer ball on show as they also posses one of the biggest money balls in the game. It's up to you to choose your game plan.
Round 2 - eliminate one of two other players.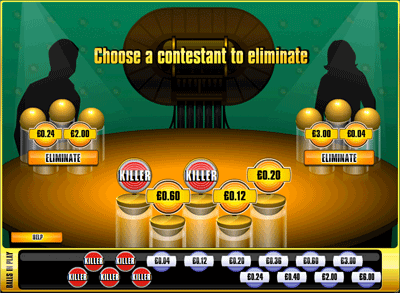 Round two of Golden Balls online is almost exactly the same as round one, except that there are now only two contestants left to choose from.
Each contestant now also has 5 balls with 3 of them being hidden (leaving only 2 on display like before). This makes your decision regarding who to eliminate all that more difficult.
Round 3 - Bin or Win.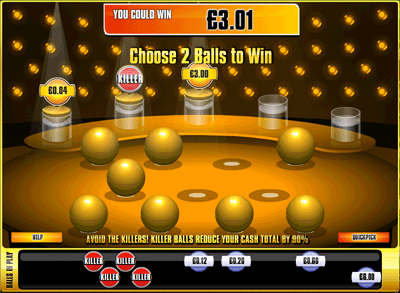 This is where you try and build as big a potential win as possible. All of the balls that you did not eliminate from the first two rounds are on the table in front of you, and you have to choose 5 of them to contribute to the money pot.
Golden balls (ones with money in). If you get a golden ball, it adds to the overall pot. Ideally you want to get 5 money balls.
Killer balls. Killer balls divide the money pot by 10 as it stands at that time. You obviously want to avoid these as best as you can.
The "Bin or Win" round is total luck, just as it is in the TV gameshow. You can reduce the agony by clicking the "quickpick" option, which will quickly select all 5 balls on your behalf.
Round 4 - Split or Steal.
This is the tense final round. You could end up winning the money pot total from the previous round, double the money pot or nothing at all. It all depends on which ball you choose and which ball the other contestant (now your opponent I guess) chooses.
As the name of the round suggests, you have two balls to choose from:
Split ball. This is the conservative option.
If your opponent also splits, you win the money in the prize pot.
If your opponent steals, you win nothing.
Steal ball. This is the aggressive option.
If your opponent splits, you win

double

the money in the prize pot.
If your opponent also steals, you win nothing.
Splitting is the safer option as your opponent will almost always split with you. You would be very unlucky to have your opponent steal when you decide to split. However, be prepared to control yourself when this takes place.
Stealing is the more dangerous (but potentially more rewarding) option as there is a greater chance that your opponent will also decide to steal. If this is the case then you will walk away with nothing.
Golden Balls online strategy.
The Golden balls online game is more of a luck-based game combined with common sense than a skill game, so the strategy aspect is limited. However, I do have a few tips to dish out that may prove to be useful:
Don't always immediately look to eliminate a contestant with a killer on show.

If they also have a big money ball on show it may be worth keeping them on.

Your opponent's decision to split or steal is not always 50/50.

If you steal, it's much more likely that your opponent will steal also. If you split, it's unlikely that your opponent will steal, leaving you with nothing. Splitting is safer than stealing.
That's about as far as the tips and strategy for Golden Balls goes I'm afraid. Other than that, all I can do is wish you the best of luck!