Football Quiz
Also known as: Football Quiz For Money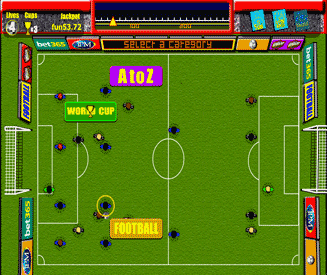 Games Similar To Football Quiz
Football Quiz online game review.
In one word: Fun
Football Quiz is a general knowledge pub quiz game, where the aim is to answer questions and score goals to win money.
The basics: Answer questions to pass the ball around so that you can get in to a shooting position. After enough passes, answer one more question to send a screamer past the goalie. The more questions you answer and goals you score, the more money you win.
"Football Quiz" is far from being the most imaginative name for a football quiz game, but the developers were probably too busy downing pints and shouting at women to care anyway.
The name is also a little deceptive because it's not strictly a quiz about football. It's actually more of a general quiz with a football theme, although there are plenty of football questions flying around.
Play Football Quiz online at Betfred now
Game rating - 76%.
In Football Quiz, the question categories you select determine who you pass the ball to and how you progress up the field. However, after scoring a goal from my own corner flag, I had to question how important tactics are when it comes to choosing questions/players on your team to pass the ball to.
As it turns out, the main focus is to just answer a set number of questions correctly; it doesn't matter how you ingeniously switched play across the field with a wide pass.
It's disappointing that there's no element of strategy when it comes to how you pass the ball around to set up a scoring opportunity. But despite this, Football Quiz is still a surprisingly enjoyable game to play.
Even though you're only answering a series of questions on different topics to win money, there's something inherently satisfying about knocking a ball about a field before sinking it in to the back of the net.
How to play.
The very basics.
Select how much you want to play for in one game of Football Quiz (this is fixed at most real money games sites).
Select which player you want to pass the ball to by clicking on a question category above their head.
Pass the ball around the field and retain possession by answering questions correctly.
After enough passes (well, questions answered correctly), answer one final question to score a goal.
Scoring goals isn't actually essential, but they do reward you with a hefty points bonus. So yeah, if you have the opportunity to score I would definitely take it.
Football Quiz in more detail.
Your main aim in Football Quiz is to earn as many points as possible. You earn points by passing the ball and scoring goals. To do this you need to answer questions correctly. However, if you answer a question incorrectly or run out of time you will lose possession of the ball.
If you lose possession of the ball, you must answer a question to regain possession. Questions answered correctly when you are not in possession of the ball will not earn you any points.
If you answer a question incorrectly at any point (or take too long to answer a question), you will lose a life. If you lose all of your lives the game is over. However, you do have lifelines in the form of "bonus cards" (as explained below) to help you along.
So to summarise:
When in possession.
You get to choose your own question categories.
Questions answered correctly will earn you points and you will advance the ball forward.
You lose a life for every incorrect answer.
When out of possession.
Your opponent selects question categories for you.
Questions answered correctly

will not

earn you points, but you will regain possession.
You lose a life for every incorrect answer.
The points bar.

As I've mentioned far too many times already, you earn points by answering questions correctly.
Fact: Answering a question correctly to score a goal is worth more points than answering a question correctly to complete a pass.
The points bar in Football Quiz indicates how many points you have accumulated and how far away you are from achieving your next milestone payment.
Question categories.
The question categories included in the Football Quiz game are as follows:
Football (<- who'd have thunk it?)
World Cup
Pot Luck
People and Places
Showbiz
Pop Music
Science and Nature
When in possession of the ball, different players on your team will have question categories above their heads. Answering your selected category question correctly will advance the ball to that chosen player (although player position has no effect on scoring opportunities).
After enough successive passes, you will have the opportunity to select a question category above the goal. If you answer this question correctly you will score.
Fact: After scoring a goal, the other team will have kick-off. Therefore, they will start with possession and your first correct answer will not earn you any points.
Bonus cards.

There are 3 "bonus cards" in Football Quiz that will help you through the game. It's a lot like having "lifelines" when playing the Who Wants To Be A Millionaire quiz game.
Substitution
Long Pass
Tackle
Each of these cards can only be used once during a game.
1) Substitution.
This card can be used before selecting a category or during a question.
Before selecting a category

- one of the possible categories will be swapped for another.

During a question

- Your current question will be swapped for another one from the same category.
In my opinion, you're far better off using the "substitution" card during a question. It's going to be much easier to try and answer one of two questions from one category you're okay with, rather than trying to answer one question from a (merely) potentially favourable category.
2) Long pass.
Selecting this card allows you to make a pass further up the field. In turn, this reduces the number of questions you will need to answer before being able to take a shot on goal.
This card is handy because goals are worth more points than successful passes, so the faster you can score the better.
3) Tackle.
The tackle card allows you to regain possession (if you've lost it) without having to risk answering a question.
Collect or continue.
After hitting a certain points milestone and winning a cash prize, you have the opportunity to collect your current winnings or gamble them for a bigger win.
If you elect to gamble but fail to make it to the next points milestone, all of your winnings will be lost, so choose wisely.
Football Quiz jackpot.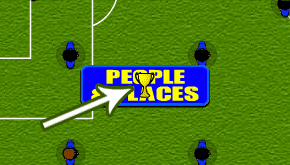 Throughout the game, some of the question categories that you can choose from will have a trophy symbol on them. Every time you select one of these categories, a trophy is added to your tally.
After you have collected enough trophies, you will be awarded with the bonus jackpot. The number of trophies required and the amount contained within the jackpot will vary depending on how long it has been since the last jackpot was released.
Fact: After releasing the jackpot, you can still continue to play on for the chance to win even more money. Be careful though, as the jackpot winnings will be lost if you end up losing the game.