Golden Sevens
Also known as: Golden 7s, Golden Sevens HiLo, Golden 7s Hi Lo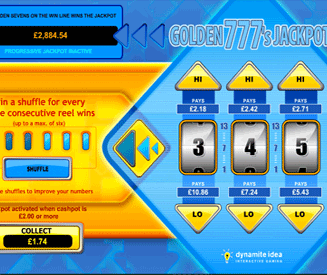 Games Similar To Golden Sevens
Review: Golden Sevens.
In one word: Exciting
Golden Sevens is a fast and energetic HiLo game. The stuff you can gamble on is limited, but what Golden Sevens lacks in wagering options is made up by its scarily fast gameplay and addictive accumulating wins.
Before you know it, your meagre £1 initial wager has transformed into a hefty £50 sum and you're just about to try and turn it in to £69.50 by going higher on a 4.
On paper, Golden Sevens is a pretty basic game. However, what that flimsy paper doesn't account for is the sky-rocketing levels of tension as you accumulate exponential winnings in just a few short rounds.
Golden sevens certainly isn't a game for the faint of heart. However, the rest of you will love it.
Play Golden Sevens online at Betfred now
Golden Sevens fun rating - 82%.
Golden Sevens does what every good HiLo game should - it provides you with some massive accumulating wins before you have chance to realise just how much you've won in such a short period of time. However, this makes losing especially sickening.
The stomach churning, heart wrenching thudding audio that arrives after incorrectly choosing higher or lower is horrible. There's nothing quite as disheartening as having a massive win ripped from your grasp without one word of warning… but then that's all part of the fun.
Despite pushing you to the brink of your sanity at times, Golden Sevens is a roaring success considering how simple the gameplay is. It isn't the most complete HiLo game out there (see HiLo Gambler), but the sheer tension the game delivers makes it a gem.
How to play Golden Sevens.
An overview of the rules.
Choose higher or lower on any one of the three reels.
Use one of your shuffles if you do not like any of the numbers on the reels.
Gamble or collect your winnings after each round.
Such a simple game, but it just works so well.
The rules (extended guide).
There are three game reels in a game of Golden Sevens.
Numbers on each reel range from

1 to 13

.
You choose can choose higher or lower on any one (and only one) reel.
If you choose incorrectly, you lose all of your wager and any winnings.
Note: If you choose higher or lower and the number on the reel is the same as before, you automatically lose.
The starting numbers for the reels are completely random. After the reels have spun, you are left with a set of three new numbers on the reels. You can then choose to continue and gamble your current winnings or collect your money.
What about the payouts?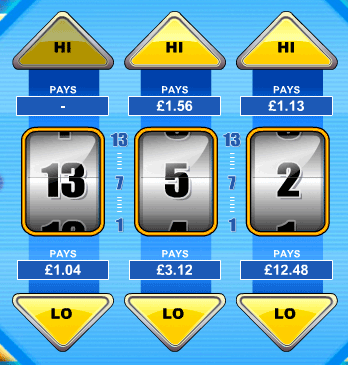 The payouts for choosing higher or lower on a reel vary. The payouts are dependent on how likely the outcome is. For example, choosing higher on a 10 will have a much bigger payout than if you were to choose lower, as it's less likely that the next number will be higher than a 10.
The higher/lower payouts for each individual number are as follows:
| Number | Higher | Lower |
| --- | --- | --- |
| 1 | 1.04x | - |
| 2 | 1.13x | 12.48x |
| 3 | 1.25x | 6.24x |
| 4 | 1.39x | 4.16x |
| 5 | 1.56x | 3.12x |
| 6 | 1.78x | 2.50x |
| 7 | 2.08x | 2.08x |
| 8 | 2.50x | 1.78x |
| 9 | 3.12x | 1.56x |
| 10 | 4.16x | 1.39x |
| 11 | 6.24x | 1.25x |
| 12 | 12.48x | 1.13x |
| 13 | - | 1.04x |
As you can see, the payouts cross over when choosing higher or lower on numbers at each end of the scale.
The riskier you are, the bigger the payouts will be.
Golden Sevens shuffles.
Throughout a game of Golden Sevens you have the opportunity to shuffle the reels. Shuffling the reels will result in a new random set of three numbers on the reels.
You start the game with 3 shuffles, but you win an extra shuffle after three consecutive correct hi lo guesses. You can shuffle the reels more than once before playing any round as long as you have enough shuffles stored up. You can store a maximum of 6 shuffles in one game.
Note: You rarely run out of shuffles, so don't worry about storing them. If anything you usually have too many shuffles available to you.
And the jackpot?

To release the "Golden Sevens" jackpot, you need to get a golden 7 (see where the name comes from now?) in the middle of each of the 3 reels after a spin.
Not every seven is a "golden 7" however. The golden 7s appear less frequently than the standard 7s during the game.