Hi Lo Poker
Also known as: Poker Hi Lo, Hi-Lo Poker
Games Similar To Hi Lo Poker
| Logo | Game | Rating | Type | Cat | Max Win | Available At | Play Now! |
| --- | --- | --- | --- | --- | --- | --- | --- |
| | Poker Bet | 73% | Luck | Casino | £5,000+ | | |
| | 3 Card Brag | 68% | Luck | Casino | £20,000+ | | |
| | Poker Dice | 42% | Luck | Dice | £15,000 | | |
Hi Lo Poker summary.
In one word: Fun
Hi Lo Poker is a titillating combination of a basic hi-lo game and poker.
The aim of Hi Lo Poker is to guess higher or lower on 5 successive playing cards. The exciting twist though is that you have the option of 2 extra hi-lo guesses to switch any 2 of your current 5 cards to make the best 5-card poker hand possible.
The better the poker hand you can make with 5 cards, the bigger the bonus will be in addition to your winnings up to that point.
I think it's safe to say that Poker + Hi Lo is a far tastier combination than Poker + Dice (as can be seen in the online Poker Dice game).
Play Hi Lo Poker online at Betfair now
Fun rating - 80%.
The most exciting aspect of the Hi Lo Poker game is the strategy involved in switching cards toward the end of the game. Do you stick with your pair or do you risk going for a flush?
Fortunately, bluffing isn't a factor in Hi Lo Poker, so you can sit there with a massive grin on your face without fear of giving the game away. Nor do you have to worry about shaking like a frail leaf in an earthquake just as you're about to guess "lo" on an 8 in an attempt make a full house.
The initial hi-lo sequence at the start of "Hi Lo Poker" is very tame and offers very little in the way of winnings. However, the end-game of switching cards and making big poker hands more than makes up for the slow start.
The game of Hi Lo Poker is fun and highly enjoyable. I'm also happy to confirm that it falls in to the prestigious "games that you are guaranteed to play more than once" category.
How to play Hi Lo Poker.
The basic rules.
Choose your stake.
Guess hi or lo on 5 playing cards in succession (so that's 4 guesses in total).
Stick with the 5 card hand and collect your winnings, or swap up to 2 cards (by guessing hi or lo) for the opportunity to make a better hand with a bigger payout.
I've made that sound more complicated than it is, but the jist of it is guess hi or lo, collect your winnings or switch up to 2 of the 5 cards. It also helps to learn the rank of hands in poker.
How to play in more detail.
Hi Lo Poker can be split up to in two sections:
Part 1

- Guessing hi or lo on the first 5 cards.

Part 2

- Switching up to 2 cards to make a better poker hand.
Part 1 - Guessing hi or lo on the first 5 cards.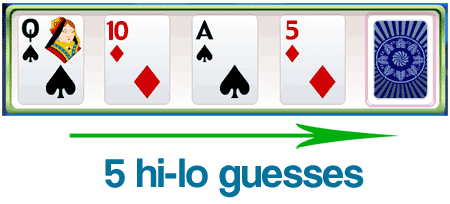 The game of Hi Lo Poker begins with a random card from a standard deck of playing cards. The aim here is to guess hi or lo correctly 4 times in a row so that you have a set of 5 cards turned over in front of you.
If you guess incorrectly on any of the cards the game is over and you have to start all over again. All in all, the first stage of Hi Lo Poker is just like playing the higher/lower round of Play Your Cards Right, minus Bruce Forsyth.
Note: If the next card is the same value as the previous one, it can still count as a correct guess. Suits are used in ranking same value cards, with the order (from lo to hi) being: Diamond < Heart < Club < Spade.
You can collect your winnings at any time in this part of the game, but the winnings are very small compared to the risks you are taking. This is because the bigger wins can come later on in the game, so it's not usually a good idea to collect before the end of the game.
Part 2 - Switching up to 2 cards to make a better poker hand.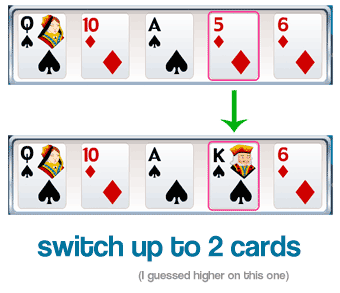 This is the best bit. After correctly guessing hi or lo to get your set of 5 playing cards face-up, you have the opportunity to guess hi or lo on any 2 cards in front of you to try and improve the overall 5 card poker hand you have.
If you are happy with your hand and your current winnings, you can simply collect without having to take any more risks. However, if you're just a card or two away from a big hand, it may be worth trying to switch them to get your hands on a much bigger payout.
If you're happy with your hand after switching just 1 card, you can still collect. You do not have to make 2 hi-lo guesses to make changes if you do not want to. This is important to remember because if you guess incorrectly, the game is over and you lose all of your winnings up to that point.
This is easily the most exciting part of the game because it involves taking calculated risks. Sure, you can lose, but you can also win big. That's what makes Hi Lo Poker such a fun game.
Note: All 5 cards must be turned to qualify for a poker hand payout. For example, if you have only turned 3 cards over and they are all Aces, it does not count as "3 of a kind" until the game is completed.
Hi Lo Poker payouts.

You earn small amounts of money in Hi Lo Poker for every correct hi or lo guess you make. However, the focal point of the payouts in Hi Lo Poker is the multipliers you get from making the strongest 5-card poker hand you can at the end of the game.
| Hand | Payout |
| --- | --- |
| Any 5 | 1x |
| Pair (JJ+) | 1.5x |
| Two Pair | 2x |
| Three of a Kind | 3x |
| Straight | 4x |
| Flush | 5x |
| Full House | 7x |
| Four of a Kind | 20x |
| Straight Flush | 50x |
| Royal Flush | 100x |
The payouts for the type of hand you make as shown in the table above multiply your current winnings up to that point. The winnings you have will come from the hi-lo guesses you made earlier in the game.
The more difficult the guesses were, the more winnings you would have under your belt.
For example, if you gamble with £1 had a fairly taxing set of hi-lo guesses in the first part of the game, you may end up with a total of £1.75. If you end up making a full house by the end of the game, you would leave with total winnings of at least £12.25.
Fact: I would have listed the standard hi-lo payouts for the first part of the game, but I couldn't be bothered. They're pretty timid anyway.