Poker Dice
Also known as: Poker Dice Online, Casino Poker Dice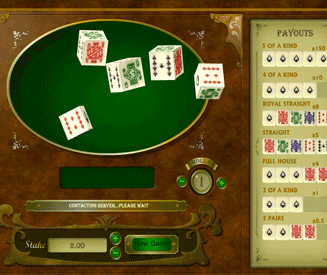 Games Similar To Poker Dice
| Logo | Game | Rating | Type | Cat | Max Win | Available At | Play Now! |
| --- | --- | --- | --- | --- | --- | --- | --- |
| | Hi Lo Poker | 80% | Luck | HiLo | £1,000+ | | |
| | Poker Bet | 73% | Luck | Casino | £5,000+ | | |
| | 3 Card Brag | 68% | Luck | Casino | £20,000+ | | |
Poker Dice rating.
In one word: Interesting
Poker Dice is a sleek online version of the "Poker Dice" game. Honestly, if you're looking to play Poker Dice online, look no further. There's no better Poker Dice game on the Internet.
If you have no idea what Poker Dice is all about on the other hand, it basically involves throwing 5 dice that have playing card faces (instead of dots, ranging from 9 to Ace) on to a table. The aim is to try and roll the strongest poker hand possible.
The bigger the hand you roll (e.g. a straight, 5 of a kind and so on), the more money you will win. Overall, it's a simple game with some beautiful game graphics.
Play Poker Dice online at Ladbrokes now
Fun score - 42%.
If you enjoy playing with Poker Dice in real life and want a real money online version of it, this online Poker Dice game is absolutely perfect for you.
On the other hand, if you've never heard of Poker Dice before, this game isn't going to be all that impressive if I'm being honest. All you have to do is place your bet, click a button and hope for the best. It certainly isn't the most dynamic game in the world.
Another negative aspect of Poker Dice is that you get frequent strings of losing games or small wins with only the occasional big win. This isn't much fun (well, let's be honest, it's frustrating) if you run out of money before that big winning roll.

At the end of the day, you either like Poker Dice or you don't. Reviewing this game is a bit like trying to give a review of marmite; there's not much I can do to convince anyone one way or the other.
I hope that explains my middle-ground fun rating of 42%. At least it's much better than that Roll 'Em dice game abomination anyway.
How to play.
The basics of Poker Dice.
Select how much you want to wager in one game.
Choose the number of rolls that are going to be made in one game (the fewer the number of rolls, the bigger the multipliers will be for each individual roll).
Hope to make the best poker hand possible with the 5 dice.
If Texas Hold'em and a set of dice were to have a loving relationship, "Poker Dice" would be their offspring.
Poker Dice rules.
The actual dice.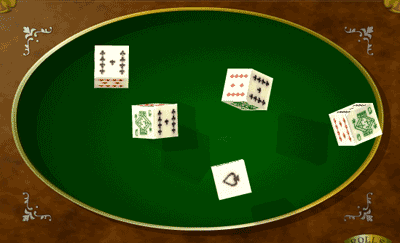 There are 5 dice that are rolled in the Poker Dice game. Each die has 6 faces, each with a playing card value from 9 to Ace. Therefore each die will have a face with a:

Fact: All playing card faces on the dice are as equally likely to be rolled as each other.
Hands and payouts.
There are up to 7 qualifying hands in Poker Dice that will award you with a payout after the dice have been thrown. The payouts vary depending on how difficult it is to roll a certain type of hand.
The qualifying hands and payouts are as follows:
| Hand | Example | Payout |
| --- | --- | --- |
| Two Pair | J, J, A, A, 9 | 0.5x |
| Three of a Kind | Q, Q, Q, T, K | 1x |
| Full House | T, T, A, A, A | 4x |
| Straight | 9, T, J, Q, K | 5x |
| Royal Straight | T, J, Q, K, A | 8x |
| Four of a Kind | J, J, J, J, A | 10x |
| Five of a Kind | A, A, A, A, A | 150x |
Note: With hands like three of a kind, four of a kind and so on, it doesn't matter what playing card value is used to make the hand. For example, three of a kind made with three 9s has the same payout as three of a kind made with three Aces.
Note: Wikipedia has a handy table with Poker Dice probabilities. It tells you the odds of rolling the different types of qualifying hands. Nice.
Multiple roll payouts.
After choosing your wager, you can select how many rolls of the dice you want to play with for that game. This effectively will spread your stake out over 1, 2 or 3 rolls of the dice.
If you choose to play with 2 or 3 rolls instead of 1, the payouts decrease and two qualifying hands are removed (if you decide to go with 3 rolls). The screenshot below highlights the differences in payouts for each number of rolls.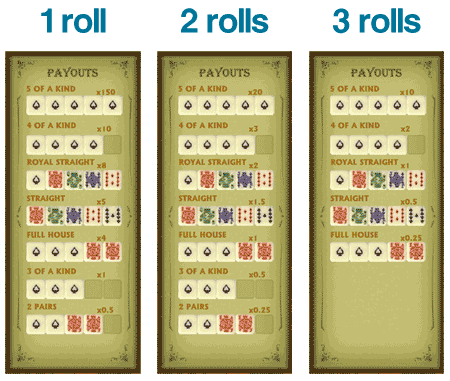 In my opinion, it's far more exciting to stick with the 1 roll games when playing Poker Dice online. I'd kick myself if I chose 2 or 3 rolls and ended up rolling 5 of a kind. As I've been informed that some sports persons would say... "go big or go home".