Roll Up
Also known as: Roll Up Hi Lo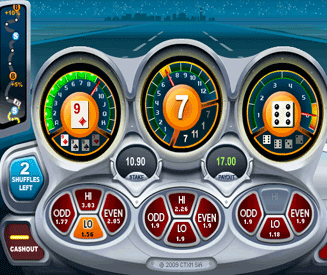 Quick review.
In one word: Exciting
Roll Up (not to be confused with the atrocity that is Roll 'Em) is a cool attempt at creating a unique hi lo game. You're faced with 3 different dials in a car and you have the opportunity to guess higher or lower on any one of them in each round.
Basically, Roll Up hi lo is a multiple choice hilo game for real money. If you think of it that way, it's a lot like Golden Sevens (but with a bit more variety).
However, on top of the standard hi lo game, Roll Up is played in a racing game setting. With every correct guess you make you will progress along the track, picking up bonuses and shuffles along the way. Pretty funky.
Play Roll Up online at Paddy Power now
Roll Up fun rating - 83%.
I'm not going to lie, Roll Up hilo is exciting and addictive. Maybe it's the racecar setting, maybe I just love the crap, repetitive music... I don't know. All I know is that Roll Up never fails to convince me that "I could do with just one more go", especially after a mammoth win.
One of the most enjoyable aspects of Roll Up is the variety. There are three different dials to choose from, each with varying odds and the opportunity to guess hi, lo, even or odd on each. It's not quite as varied as Hi Lo Gambler, but it's good enough.
Now, throw the racetrack with its bonuses on top of this and you can start to see why Roll Up is so enjoyable.
In fairness, I am a bit of a sucker for hilo games, but nonetheless I'd still recommend anyone to sign up to Paddy Power Games just to play Roll Up at least once. It really is that good.
How to play the game.
The basics of Roll Up.
Select how much you want to wager at the start of each game.
Select hi, lo, even or odd on any of the three dials in front of you.
If you win, you can continue to gamble your winnings on the next round or collect them and start again.
More details.
There are 3 dials to choose from in Roll Up. Each dial is different and either has a different range of numbers or set of values.
The card dial.

This dial ranges from Ace to King, which means that there are 13 values in total.

The number dial.

This dial ranges from 1 to 12.

The dice dial.

This dial ranges from 1 to 6.

At the start of the game the starting number or value for each dial is random. In any round of the game you can choose to go higher or lower on any of the dials. You can also choose even or odd on any of them also.
If you choose correctly, your money will be rolled over to the next round where it can be gambled or collected. If you choose incorrectly, the game is over and you lose your initial stake and all your winnings up to that point.
Payouts vary depending on the likelihood of the outcome.
Multi pick feature.

A cool feature in Roll Up is the ability to place multiple wagers in one round. So instead of guessing hi, lo, even or odd on just the one racecar dial, you can wager on as many dials as you like.
To successfully win money with multi-pick, all of your choices must be correct at the end of the round. If just one guess is wrong, you lose. You can turn the multi-pick option off at any point in the game.
In general, the more picks you make whilst using the multi-pick option the higher the payout will be. So whilst it's certainly riskier, it can be much more rewarding.
Note: If you really like the idea of making multiple hi-lo choices for the chance to win bigger amounts of money, you will love the Generator hi lo game.
Roll Up racetrack.
With every correct guess you make in Roll Up, you will move one point up around the racetrack. At certain intervals along the racetrack there are bonuses that you can pick up.
Free shuffles.
Bonus multipliers.
It's worth noting that multiple correct guesses during a multi pick round will only count toward one spot movement up the racetrack, regardless of how many correct guesses you made in that round.
1) Free shuffles.
You get a free shuffle after your first 3 correct guesses, then you will get them after every 6 subsequent correct guess.
Shuffles are indicated by a blue circle with an "S" in it on the track. Shuffles will shuffle (hence the name) all 3 dials so that you will have the opportunity to play the round with better numbers.
Fact: You start each and every game with 1 free shuffle.
2) Bonus multipliers.
Bonus multipliers are gained after every 6 correct guesses you make from the start of the game.
Bonus multipliers increase your winnings for the previous round by a certain percentage. The further up the track you progress, the bigger the percentage gets. The percentage bonus multipliers range from 5% at the start up to 20%.
The bonus percentages arrive in the following order:
5%
10%
15%
20%. It then remains at 20% for the rest of the game.
Bonus multipliers are indicated by a orange circle with a "B" in it. The percentage bonus will be shown next to it.