Generator
Also known as: Generator HiLo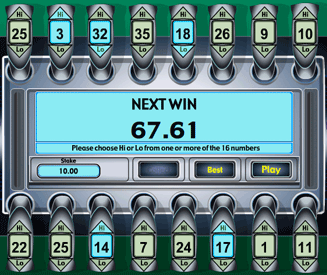 Games Similar To Generator
Generator game review.
In one word: Interesting
Generator is a fairly basic hi lo game that allows you to place multiple hi-lo bets at once in one round. As a result, the win multipliers that you can achieve through wagering on a bunch of hi-lo numbers can be tremendous.
Fact: Seriously, you won't find bigger win multipliers anywhere else. You can turn £0.50 in to £250,000 in one round playing Generator. It's ridiculous.
Generator is great if you want to have a shot at building some massive wins in a very short period of time. However, there is a very limited amount of tension and excitement due to the instant results within the game.
The Generator HiLo game is not so much fun as it is useful for tailoring the payouts to suit your needs/desires/dreams.
Play Generator online at Paddy Power now
Rating - 67%.
Generator is disappointingly not all that much fun. In fact it can get very frustrating when you end up losing out on a massive win thanks to one result (valve?) that goes against all the odds just to slap you in the face. The game can really get under your skin at times.
However, I guess that this frustration is the price you pay for the opportunity to win anywhere between 1.01x and 20,000x, 100,000x or even 500,000x your initial stake in a matter of seconds. And at the end of the day, you can't really complain about such incredibly flexible payouts like that.
All in all, Generator is unique in that there are very few (if any) games that can offer such soaring high and flexible instant payouts. However, it's more of a utility than an entertainer, so the fun rating is lower than we all might have hoped.
For a casual, fun and gripping hi-lo game, try HiLo Gambler, Golden Sevens or even Crack The Safe.
How to play Generator.
The basic rules.
Select how much you want to play for.
Wager high or low on as many or as few as the 16 different numbers as you like.
If you win, collect your winnings or roll them over on to the next round and bet like you did in step 2.
Generator speeds up the process of wagering in hilo games. It's not quite as fun this way, but it's definitely a lot faster than gambling higher or lower just once on every round.
Generator in more detail.
There are 16 different valves (I think that's what they are) in the game, each with a number on it. The valve randomly displays any number between 1 and 36 at the start and at the end of each round.
You can wager higher or lower on any of the valves and on as many or as few as you like. Wagering "hi" or "lo" will result is different payouts depending on the starting number and how likely the outcome is.
After you've placed your bets, click "Play" to start the game.
To win the prize money indicated in the centre of the screen (this will vary depending on how you've placed your bets), all of your hi-lo wagers must be correct. Even if one of your wagers is wrong, you win nothing and lose your initial stake.
Game payouts.
In Generator you can pretty much sculpt your payouts to your own personal tastes. The payouts and win multipliers are dependent on two things:
The number of valves you wager on.

The more valves you wager on, the bigger the overall multiplier.

The likelihood of the outcome.

For example, if you choose "lo" on 34, the potential payout is going to be much smaller than choosing "hi".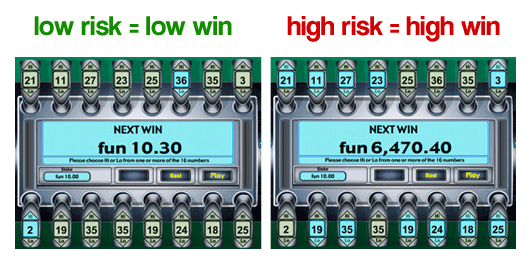 Fact: The minimum multiplier is 1.01 by guessing "hi" on 1 or "lo" on 36. The maximum multiplier is 500,000 by choosing multiple unlikely outcomes across the valves.
The best thing about Generator is that you can play as conservatively or as risky as you like. There are virtually no restrictions on how you play the game as far as odds and payouts go.
The "Best" button.
The "Best" button automatically chooses the "best" number with the greatest chance of winning and selects hi or lo accordingly. As a result, these wagers will also have the lowest payouts.
If you press the "Best" button more than once, it will continue to select the next "best" wagers in terms of the odds.
So for example, if you click the "Best" button, it will select hi on a number 1 and low on a number 36 if they're available. If these are not available or have already been wagered on, it will search for the numbers 35 and 2, then 34 and 3 and so on.
In the following screenshot, the "Best" button has been pressed three times: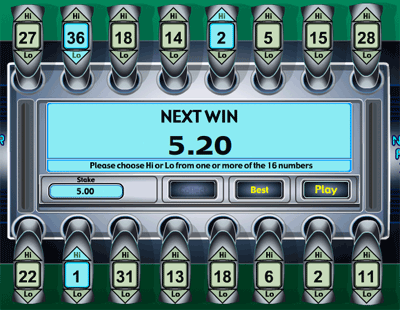 Is there much of a strategy?
There's no real strategy for Generator as far as improving your overall edge goes. However, in my opinion there are two ways to play the game to optimise fun and excitement.
Bet on a small number of valves.

The more valves you wager on the harder it becomes to keep track of things and see how close you came to winning or losing. This is the conservative route, but it's certainly enjoyable this way.

Go balls to the walls.

Try and turn that £0.50 or £1 in to a five figure sum. Sure, it's highly unlikely to happen, but there's always a chance!
It's not up to me to tell you how to play the game, but these are my two personal favourite plans of attack.