Laser Escape
Also known as: Laser Escape Hi Lo
Games Similar To Laser Escape
Short overview of Laser Escape.
In one word: Fun
Laser Escape is a fun hi-lo game that makes up for its lack of betting options with unique and interesting gameplay.
You basically have to try and guide ball through numerous levels by avoiding lasers that fire at you at the end of each round. If you guess correctly, the ball will fall through a trap door to the next level. If you guess incorrectly, the ball will explode (courtesy of a laser beam) and the game is over.
In terms of hi-lo games, Laser Escape is as raw as it gets as you can only wager on whether the following number will be the higher, lower or the same as before. For those of you that like to have lots of options in your hi lo games, Laser Escape is not for you (try HiLo Gambler instead).
However, if you enjoy the tension and prefer to play a casual game with entertaining graphics, give "Laser Escape" a shot.
Play Laser Escape online at now
Laser Escape fun rating - 61%.
Despite the fact that HiLo games are always going to be simple and based entirely on luck, Laser Escape tries hard to buck the trend by attempting to make the game as involving and exciting as possible.
The game is incredibly simple, which does very little in the way of making it a fun game. Therefore, the whole fun aspect rests on the unique spin that has been put on it, which fortunately does a very good job of keeping you engaged with its little mission-esque structure.
I'm sure many will find the game slow and cumbersome (which it is), but if you're after a casual and entertaining HiLo game then it's a good thing rather than a bad thing.
I didn't want to like Laser Escape at all, but it does grow on you. However, at the end of the day it's a far from an intuitive game, so the fun rating is has to be somewhat limited.
Playing the game guide.
The basics.
Select your stake and where you want the ball to be positioned for the first round.
Choose higher, lower or the same as before for the current number.
Hope that the ball lands on a trap door that's about to open and avoids any lasers.
Choose to continue and gamble or to collect your winnings.
At heart, Laser Escape is a desperately simple game to play. The only thing that could need explaining is how it all plays out, but to be honest you're better off just finding it out first hand rather than having me explain it to you.
If you have time to burn though, keep reading.
A bit more about playing the game.
A ball rests on a platform that has been segmented in to 10 trap-doors (or airlocks as they seem to ball called). Each of these airlocks has been numbered 1 to 10.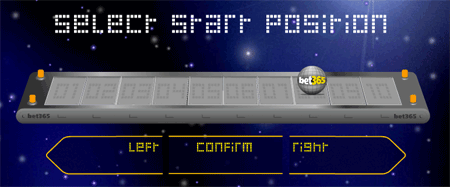 At the start of the game, you get to choose where the ball is positioned for the first round. If you want to play conservatively, place the ball towards the ends of the row of airlocks. If you're feeling more adventurous, place the ball in the centre and hope for the best.
In each round you have to choose higher, lower or the same as the current number. The ball will then bounce back and forth before finally coming to rest over one of the airlocks. The ball has an equal chance of stopping over any one of the 10 airlocks.
If you guess correctly, the ball will avoid those nasty lasers by dropping through the opening airlock down to the next level. At this point, you can then choose to either collect your winnings or play on with the game. Your winnings will accumulate as you progress through the levels.
Payouts chart.
Depending on the placement of the ball the payouts will vary. The less likely the outcome (e.g. higher on an 8 instead of lower), the bigger the payout will be.
| Number | Higher | Lower | Same |
| --- | --- | --- | --- |
| 1 | 1.05x | - | 9.5x |
| 2 | 1.19x | 9.5x | 9.5x |
| 3 | 1.35x | 4.8x | 9.5x |
| 4 | 1.6x | 3.15x | 9.5x |
| 5 | 1.9x | 2.3x | 9.5x |
| 6 | 2.3x | 1.9x | 9.5x |
| 7 | 3.15x | 1.6x | 9.5x |
| 8 | 4.8x | 1.35x | 9.5x |
| 9 | 9.5x | 1.19x | 9.5x |
| 10 | - | 1.05x | 9.5x |
The riskier you are, the bigger the payout will be if you get lucky.
Fact: In theory, you could win well over £1,000,000+ from a minimum bet of £0.50 if you were to correctly guess "same" number on multiple occasions.