Aztec Gold
Also known as: Aztec Gold Pyramid Climb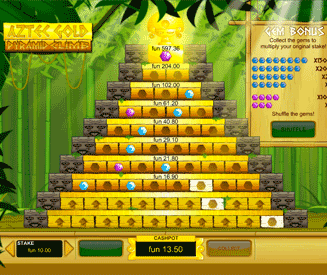 Games Similar To Aztec Gold
Quick review of Aztec Gold.
In one word: Annoying
Aztec Gold (or "Aztec Gold, Pyramid Climb") is an entirely luck-based game where the goal is to climb as far up a pyramid as possible. The further up the pyramid you go, the more money you will win.
Each layer of the pyramid in the Aztec Gold game is split up in to sections. A light will move back and forth before finally landing on one of the sections in the row. If it lands anywhere in the middle, you move up a level. If it lands on either of the outermost squares, you lose.
All in all, Aztec Gold is a basic game that has been thrown in to an ancient Egyptian setting in a desperate attempt to make it more interesting. If you're in to that sort of thing, Pyramid is a little better.
Game overall rating - 25%.
The idea behind Aztec Gold isn't actually all that bad. The risks and rewards progressively increase as you move from one round to the next, which in fairness is pretty exciting. However, the whole game is let down by a dodgy light-thingy that selects the sections on each row.
Basically, the results of each round rest upon a light that travels back and forth across the segments of each row before eventually coming to a stop. Unfortunately, there seems to be absolutely no rhyme or reason behind where it actually lands.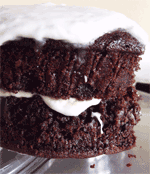 On top of that, it seems to skip a section every now and then just to make it even more unpredictable in the most annoying way possible. The effort that has gone in to the selection process is just so poor. It's like baking a delicious cake and icing it with a pitchfork.
I don't know how long it takes to make games like this, but with a little more attention Aztec Gold could have been way more fun than it is. But as it stands, it's just frustrating instead.
Note: For a perfect example of how the selector in Aztec Gold should work, check out the one they use in Hi Lo Gambler. The one in Laser Escape Hi Lo isn't half bad either.
How to play Aztec Gold.
My quick and awesome guide.
Decide how much you want to play for in each game.
Start the game and hope that the light lands anywhere in the centre of the row.
Gamble your winnings on each progressively shorter row or quit and collect.
The further you move up the pyramid in Aztec Gold the more money you can win. However, there's a greater chance of losing from one round to the next, so it's up to you if you're willing to gamble for bigger cash prizes.
My longer and more awesome guide.
As you're already thoroughly aware, the main focus of Aztec Gold is to move as high up the pyramid as possible.
The Pyramid.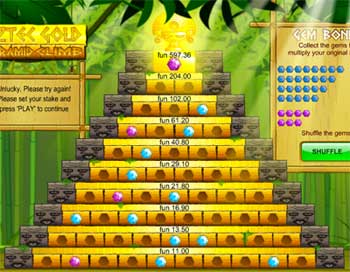 There are 10 levels to the pyramid.
Each level has

2 losing sections

, where the

remainder are winning sections that will win you money and move you further up the pyramid.

The first level has 12 sections. The number of sections decreases by 1 from one level to the next.
Therefore, the number of winning and losing sections for each row looks like this:
| Row | Winning Sections | Losing Sections | Total Sections |
| --- | --- | --- | --- |
| 1 | 10 | 2 | 12 |
| 2 | 9 | 2 | 11 |
| 3 | 8 | 2 | 10 |
| 4 | 7 | 2 | 9 |
| 5 | 6 | 2 | 8 |
| 6 | 5 | 2 | 7 |
| 7 | 4 | 2 | 6 |
| 8 | 3 | 2 | 5 |
| 9 | 2 | 2 | 4 |
| 10 | 1 | 2 | 3 |
In each round of the game, a light will bounce back and forth across the row before finally coming to rest on one of the sections.
If it lands on an

inner section

, you

win money and move up the pyramid.

If it lands on one of the

two, grey sections on the edges

of the row,

you lose

.
The further you move up the pyramid, the bigger the multipliers get.
Gem bonus.

An interesting (albeit incredibly rare) side-bonus is the ability to collect gems as you progress through the pyramid. If you collect a set amount of each gem you will win some bonus money.
There are two types of gems in Aztec Gold:
Blue gems.

These are the most common, but you need to collect a lot to win money.

Red games.

These are rarer, but you need to collect fewer to win money.
The payout multipliers for collecting set amounts of each gem are as follows:
It's also possible to shuffle the position of the gems before starting each game by using the "SHUFFLE" button. You can shuffle the gems as many times as you like.
Aztec Gold payouts.
The payouts for reaching each level of the pyramid in Aztec Gold are as follows:
| Level | Payout |
| --- | --- |
| 1 | 1.1x |
| 2 | 1.35x |
| 3 | 1.69x |
| 4 | 2.18x |
| 5 | 2.91x |
| 6 | 4.08x |
| 7 | 6.12x |
| 8 | 10.2x |
| 9 | 20.4x |
| 10 | 59.74x |
As you can see, the payouts drastically increase as you reach the uppermost levels of the Pyramid.