Bet365 Games Review
Honest review of the Bet365 Games website.

97%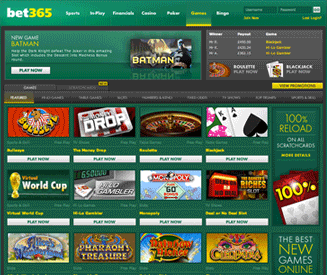 Bet365 Games review.
Bet365 is easily my favourite site for online real money games. It's easy to use, has great banking and support, and offers the best selection of games out of all the real money games sites.
Bet365 Games basically ticks all of the boxes and then goes on to impress you even further. If you're new to playing games for real money online or if you're an experienced player looking for a better class of games, Bet365 is the answer.
As you can tell, I really do love Bet365 Games. Not quite in the sexual meaning of the word, but not too far off.
Casino games selection overview.
Bet365 has more games than most websites, which means that if a real money game exists, Bet365 almost certainly has it.
Bet365 is one of the few games websites that actually hosts a bunch of unique games. The vast majority of games websites tend to share the same games, but Bet365 has a few that you won't find anywhere else. The Money Drop is a prime example.
As far as overall game quality is concerned, it's varied. Seeing as Bet365 offers so many games it's always going to cover the good - bad games spectrum, but if you're selective you can find some real gems (or you could just use the ratings on here of course).
Website review.
The Bet365 Games website is fast loading and easy to use. All of the games are laid out in to well-spaced grids, which makes it easy to scan through all the games on offer. There are also category tabs at the top of the games grid for easy navigation.

Immediately after the Bet365 website has loaded you can tell that you've entered a classy establishment. It's that same feeling you get when you first walk in to an absurdly posh Hotel. You know that you're dealing with a site that knows what it's doing, and I can assure you that it doesn't disappoint from there onwards.
Easy to use and never any problems. Bet365 really sets the standard for how a good real money games website should look and run.
Getting your money in and out.
I've been depositing and withdrawing from Bet365 for years and I can honestly say that I've never once has a problem. The banking department is so reliable that at times I wish they worked in the public transport sector.
Deposit methods.
Debit and credit card.
Cheque
Paypal
Bank transfer
Moneybookers and Neteller
There are a bunch of other deposit options at Bet365, but these are the most popular ones. Almost all deposit methods are instant, aside from cheques and bank transfers.
Withdrawal options.
Debit and credit card.
Cheque
Paypal
Bank transfer
Moneybookers and Neteller
Withdrawal options are the same as deposit options at bet365 for the most part, so if you've made a deposit via a certain method, you should also be able to make a withdrawal in the same way also.
Withdrawals to online wallets are instant, whereas debit/credit card withdrawals tend to take between 3 to 5 days. The last few debit card withdrawals I've made have taken 3 working days, which is very snappy.
Support.
Fast and friendly. It's the perfect combination.
If you have any problems at all, which are unlikely from my experience, the Bet365 support team are impressively fast and on the ball.
Bet365 offers email, phone, fax and live chat contact options. Oh, and you can also get in touch via post if you're feeling particularly fruity.
Bet365 Games free bonus - £10.

All new players making their first deposit at Bet365 games will get themselves a free £10 bonus to play with.
Just create your account, make a deposit of £10 or more and the £10 bonus will be added to your balance for you to wager in any game you like. It's as easy as that.
All Bet365 Games
| Logo | Game | Rating | Type | Cat | Max Win | Available At | Play Now! |
| --- | --- | --- | --- | --- | --- | --- | --- |
| | The Money Drop | 94% | Luck | TV | £96,000 | | |
| | Hi Lo Gambler | 93% | Luck | HiLo | £55,000+ | | |
| | Deal or No Deal | 91% | Luck | TV | £10,000 | | |
| | 4 Play Hi Lo Bingo | 88% | Luck | HiLo | £10,000 | | |
| | Bullseye | 86% | Skill | TV | £35+ | | |
| | Spin Win | 85% | Luck | Numbers | £30,000+ | | |
| | Baltimore Drop | 84% | Luck | Numbers | £2,500+ | | |
| | Golden Sevens | 82% | Luck | HiLo | £100,000+ | | |
| | Virtual Dogs | 81% | Luck | Sports | £200,000+ | | |
| | Hi Lo Poker | 80% | Luck | HiLo | £1,000+ | | |
| | Millionaire | 79% | Skill | TV | £40+ | | |
| | Virtual Horses | 78% | Luck | Sports | £200,000+ | | |
| | Pinball Roulette | 78% | Luck | Numbers | £10,000+ | | |
| | Football Quiz | 76% | Skill | Quiz | £50+ | | |
| | Golden Balls | 76% | Luck | TV | £1,200 | | |
| | Rubik's Riches | 74% | Luck | Other | £250,000 | | |
| | Crack The Safe | 71% | Luck | HiLo | £5,000 | | |
| | Battle Cash Bonanza | 70% | Luck | Keno | £100,187 | | |
| | Pinball Deluxe | 70% | Luck | Casino | £1,000+ | | |
| | 3 Card Brag | 68% | Luck | Casino | £20,000+ | | |
| | Generator | 67% | Luck | HiLo | £250,000 | | |
| | Hangman | 66% | Skill | Quiz | £10+ | | |
| | Laser Escape | 61% | Luck | HiLo | £1,000,000+ | | |
| | Shut The Box | 60% | Luck | Dice | £1,000 | | |
| | Slotblox | 57% | Luck | Other | £20,000 | | |
| | Pyramid | 56% | Luck | Numbers | £250,000 | | |
| | Digit | 53% | Luck | Numbers | £50,000+ | | |
| | Multiplier | 50% | Luck | Numbers | £100,000 | | |
| | La Boule | 43% | Luck | Casino | £1,000+ | | |
| | Poker Dice | 42% | Luck | Dice | £15,000 | | |
| | Aces High | 40% | Luck | HiLo | £50,000+ | | |
| | Killer Ace | 32% | Luck | Casino | £1,000+ | | |
| | Tower Power | 31% | Luck | Dice | £150,000+ | | |
| | Fruity Supernova | 30% | Luck | Other | £100,000+ | | |
| | Monopoly On A Roll | 28% | Luck | Numbers | £20,000 | | |
| | Catchphrase | 27% | Skill | TV | £40+ | | |
| | Aladdin's Treasure | 26% | Luck | HiLo | £10,000 | | |
| | Aztec Gold | 25% | Luck | Numbers | £15,000+ | | |
| | Golden Clover | 24% | Luck | Numbers | £40,000+ | | |
| | Darts | 10% | Luck | Sports | £5,000+ | | |
| | Chain Reactors | 8% | Luck | Other | £1,000,000+ | | |
| | Football: In Between | 4% | Luck | Sports | £710 | | |